Butts and Guts
This class is taught by: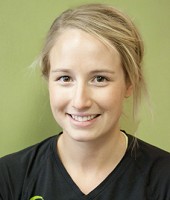 Personal Fitness Trainer (NAIT Diploma)
Personal Trainer Specialist (canfitpro)
Fitness Instructor Specialist (canfitpro)
fitilates Master Trainer (fitilates Academy)

Tamsyn Irwin is a graduate of NAIT's Personal Fitness Trainer program and is also Certified through the Canadian Society of Exercise Physiology as a Certified Personal Trainer.
Tamsyn's fitness career began at an early age. As far back as she can remember, she was involved in athletics where she developed her foundation for an active lifestyle. She worked her way up from intramural sports in school and college to being a national caliber athlete. As well as competing, Tamsyn has also devoted her time to coaching younger teams. Coaching is probably the biggest factor that led Tamsyn to want to become a fitness trainer. Over the years she has been very grateful to have had all her coaches, teachers and role models in her life. She admired what they had to offer. Tamsyn wants to pay forward what she has been so fortunate to learn.
Tamsyn's training philosophy is mind over matter. We all know what we can do, what we don't know is how much more we are capable of doing. She believes that our minds are stronger than any of our muscles. We need to use our mental strength in order to develop our physical strength. She will give you that push, so that you will leave your comfort zone and see what you can truly do, not only in exercise but also in everyday life. Tamsyn hopes to lead by example in helping others to embrace the world of health and fitness.
---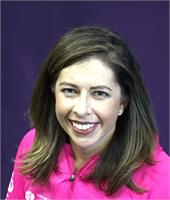 Spin Instructor (Mad Dogg)
Fitness Instructor Specialist (canfitpro)
In September of 2006, Wendy first walked into Infinite Fitness, looking to expand her fitness routine beyond running a few times a week. Since then, Wendy has been a participant in every service offered by Infinite Fitness, from personal training to Pilates to group fitness classes.
Through these experiences, Wendy discovered she loves cycling.
The progression from indoor cycling participant to instructor was an easy decision for Wendy to make. She loves helping other others to feel her same passion, the sense of rider community, goal setting and ultimately crushing those goals. In May, Wendy took her passion to the next level, attaining her canfitpro FIS certification.
Wendy brings her "riders" 9 years of indoor cycling and 4 years of distance road cycling experience, enthusiasm and motivating music to every class - Feet in the pedals, head and heart in the clouds!
Some of Wendy's favorite quotes:
"I want to inspire people. I want someone to look at me and say because of you I didn't give up"
"If you're sad, add more lipstick and attack" – Coco Chanel
"Maybe you could tone it down. There's no kill switch on awesome" - Dilbert
---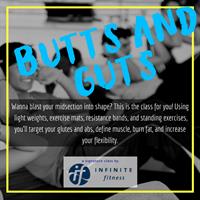 Yep, you read it right!
This class is a high intensity half hour focusing on your abs and hips. Typical muscle groups being worked will include your rectus abdominals, transversus abdominus, glutes, hip flexors, and back extensors--in layman's terms: your butts and guts!
Like all of our Signature Classes, this class is appropriate for all levels and modifications will be provided when appropriate.
Upcoming classes: