Butts and Guts
This class is taught by: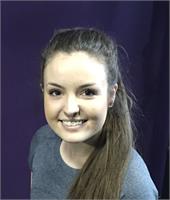 Personal Fitness Trainer (NAIT)
Certified Personal Trainer (CSEP)
Certified Corrective Exercise Specialist (NASM)
fitilates Instructor (fitilates Academy)

Starting at a young age, Alara grew up a dancer and continued into adulthood before choosing to pursue the career of personal training. Dancing professionally as mainly a ballet dancer, Alara joined the team with a wide range of knowledge especially in the realm of human movement.
Alara strives to help clients not just to exercise, but to MOVE their bodies to keep them mobile and strong. Her enthusiasm to help others reach their goals really highlights what the infinite team has to offer as exercise professionals.
She brings energy and passion to every client that walks in our doors, and strives to help her clients step out of their comfort zones to become the best versions of themselves as possible. She believes that the true first step is to show up, which allows the magic to truly happen, and an opportunity for growth!
Alara expresses the importance of taking care of the mind along side the body, to achieve any goal possible. With the support, guidance, and knowledge Alara brings, she can take you to levels you never thought possible!
---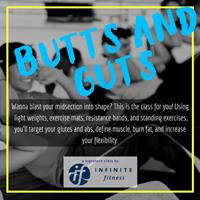 Wanna blast your midsection into shape? This is the class for you! Using light weights, exercise mats, resistance bands and standing exercises, you'll target your glutes and abs, define muscle, burn fat and increase your flexibility.
Upcoming classes:
Sign Up

Fri

Dec 21 6:00 pm - 6:45 pm

with

Alara

Lepage