Spinyasa
This class is taught by: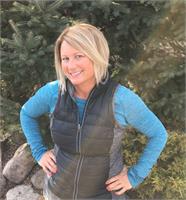 As a self-proclaimed fitness addict, Lina has a passion in ensuring physical activity is part of her daily routine. Trying to find balance, when life can be hectic, Lina is always focusing on a new fitness goal!
Her enthusiasm for running has her registering for races to keep motivated, cross training with a personal trainer and teaching Spin class. After years of rigor and aggressive workouts, she found her way into yoga to help relax, stretch and heal. Recently, Lina has deepened her yoga practice and completed the 200HR Yoga Teaching Training. As she began to feel the transformation yoga had in her life she felt inspired to share the gift of yoga with others. Lina believes the mind, body, soul connection is a sacred one, and one that should be nurtured and inspired. With that mentality, Lina's objective is to teach her classes from her heart creating an uplifting, safe environment for students to begin to explore and expand within their own body and consciousness. She is continually inspired by yoga's transformative power—both internally and externally, and finds it to be a source of balance and strength. Lina strives to bring a sense of fun, freedom and kindness in all that she does!
If you attend her Spin class, you will be sure to be motivated by her energy and random music selection. Variety is key and her classes will be filled with challenging drills and positive encouragement. Lina loves to connect with riders and gets inspired by the sense of community. Together anything is possible and goals are not only achieved, they are crushed!
On her down time, you can find her walking her dogs in the River Valley with a vanilla latte as she plans her next hiking adventure! She loves the outdoors, especially sun and sand!
Certified Yoga Instructor (200HR RYT)
Certified Spin Instructor (Mad Dogg)
Personal Trainer Specialist (Canfitpro)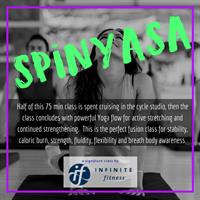 Half of this 75 minute class is spent cruising in the cycle studio, then the class concludes with powerful Yoga flow for active stretching and continued strengthening. This is the perfect fusion class for stability, caloric burn, strength, fluidity, flexibility and breath body awareness.
Upcoming classes: