Cycle and Strength
This class is taught by: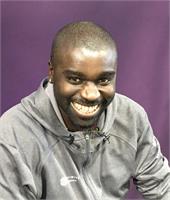 Personal Trainer Specialist (canfitpro)
Dominic completed his Bachelor of arts with a concentration in Early Childhood Education from the University of Buffalo in 2010.
Growing up in Toronto, he participated in many sports like soccer, basketball, hockey, track, and rugby, and after pursuing his passion of becoming a professional Athlete, Dominic wanted to help people make lifestyle changes.
Aspiring to increase the performance of his clients, Dominic is continually studying new movements and variations that may be applied for an individual to meet their goal. Even though researching new high intensity techniques has a personal advantage for his own training, he is always excited to share it with his clients. Because of his athletic background, Dominic likes to put a big focus on mental strength.
---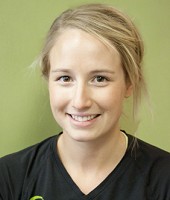 Personal Fitness Trainer (NAIT Diploma)
Personal Trainer Specialist (canfitpro)
Fitness Instructor Specialist (canfitpro)
fitilates Master Trainer (fitilates Academy)

Tamsyn Irwin is a graduate of NAIT's Personal Fitness Trainer program and is also Certified through the Canadian Society of Exercise Physiology as a Certified Personal Trainer.
Tamsyn's fitness career began at an early age. As far back as she can remember, she was involved in athletics where she developed her foundation for an active lifestyle. She worked her way up from intramural sports in school and college to being a national caliber athlete. As well as competing, Tamsyn has also devoted her time to coaching younger teams. Coaching is probably the biggest factor that led Tamsyn to want to become a fitness trainer. Over the years she has been very grateful to have had all her coaches, teachers and role models in her life. She admired what they had to offer. Tamsyn wants to pay forward what she has been so fortunate to learn.
Tamsyn's training philosophy is mind over matter. We all know what we can do, what we don't know is how much more we are capable of doing. She believes that our minds are stronger than any of our muscles. We need to use our mental strength in order to develop our physical strength. She will give you that push, so that you will leave your comfort zone and see what you can truly do, not only in exercise but also in everyday life. Tamsyn hopes to lead by example in helping others to embrace the world of health and fitness.
---
An Infinite Fitness Signature Class that combines the sweat and calorie burn of our Infinite Ride class with the strength and toning of resistance training.
This class guarantees a full body workout by alternating between intervals on the bike to weight training exercises off the bike. It's a class perfect for those who are intimidated of sitting on the bike for an entire class and those looking for a top-notch comprehensive workout in just 60 minutes.
Like all of our Signature Classes, this class is appropriate for all levels and modifications will be provided when appropriate.
*please note: due to the potential of injury and unnecessary strain, we do not perform resistance training exercises while on the bike.*
Upcoming classes: