Tamsyn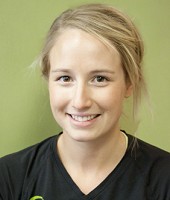 Personal Fitness Trainer (NAIT Diploma)
Personal Trainer Specialist (canfitpro)
Fitness Instructor Specialist (canfitpro)
fitilates Master Trainer (fitilates Academy)

Tamsyn Irwin is a graduate of NAIT's Personal Fitness Trainer program and is also Certified through the Canadian Society of Exercise Physiology as a Certified Personal Trainer.
Tamsyn's fitness career began at an early age. As far back as she can remember, she was involved in athletics where she developed her foundation for an active lifestyle. She worked her way up from intramural sports in school and college to being a national caliber athlete. As well as competing, Tamsyn has also devoted her time to coaching younger teams. Coaching is probably the biggest factor that led Tamsyn to want to become a fitness trainer. Over the years she has been very grateful to have had all her coaches, teachers and role models in her life. She admired what they had to offer. Tamsyn wants to pay forward what she has been so fortunate to learn.
Tamsyn's training philosophy is mind over matter. We all know what we can do, what we don't know is how much more we are capable of doing. She believes that our minds are stronger than any of our muscles. We need to use our mental strength in order to develop our physical strength. She will give you that push, so that you will leave your comfort zone and see what you can truly do, not only in exercise but also in everyday life. Tamsyn hopes to lead by example in helping others to embrace the world of health and fitness.
---
Tamsyn instructs the following:
Tabata is an intense and challenging form of alternate high intensity intervals with rest. You'll get your heart rate going and complete a hardcore workout with this fun and exhilarating class!




Build strength in this dynamic full body resistance class. Using free weights and body weight, hit all your muscle groups, improve your balance and tone muscle. You are guaranteed to feel the burn!




Sweat and blast calories as you alternate between intervals on your bike and weight training exercises off the bike, set to heart pumping, motivating music and instruction. This is a full body workout, the perfect blend of both worlds!




Wanna blast your midsection into shape? This is the class for you! Using light weights, exercise mats, resistance bands and standing exercises, you'll target your glutes and abs, define muscle, burn fat and increase your flexibility.




This stamina building class incorporates boxing, kickboxing, martial arts and cardio! A high energy class that will leave you feeling powerful and self-confident.




Small Group Personal Training classes are perfect for individuals looking to combine the effectiveness and personalization of Personal Training with the energy and camaraderie of a Group Fitness class! With only 6-8 participants per class, work outs are perfectly tailored to each individual's needs, abilities, and goals.




This two-for-one upper body workout focuses on the muscle groups in your arms while helping tone and define your midsections in the process. This high energy class will condition, strengthen and tone your upper body!