Melanie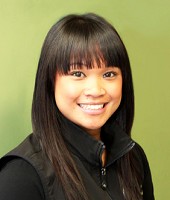 Personal Fitness Trainer (NAIT)
Personal Trainer Specialist (canfitpro)
Fitness Instructor Specialist (canfirpro)
Melanie is a graduate from the NAIT – Personal Fitness Trainer program. Her personal philosophy is to help others overcome obstacles that can get in the way of achieving their goals. Giving them that extra push that is needed when they say no more. And empowering them to succeed beyond their own expectations.
She loves to not only push and work her clients hard but also to have fun with them at the same time. Her determination to help and see a client's success is what she thrives on. She likes to design a variety of programs for her clients whether its in the studio or for home, always challenging them to keep working hard.
Melanie wants her clients to feel motivated enough that they look forward to their sessions with her but also make activity part of their lifestyle,therefore moving them closer to their goals. She believes everyone should experience the feeling of accomplishing a goal – if you believe it you can achieve it!!
---
Melanie is currently not instructing any classes.