Amber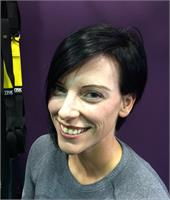 Personal Fitness Trainer (NAIT)
Certified Personal Trainer (CSEP)
Certified Corrective Exercise Specialist (NASM)
Fitness Instructor Specialist (canfitpro)
fitilates Master Trainer (fitilates Academy)
Amber Maxwell is a graduate of NAIT - Personal Fitness Trainer program. She is certified through the Canadian Society of Exercise Physiology as a Certified Personal Trainer and through National Academy of Sports Medicine as a Corrective Exercise Specialist.
Amber's passion for fitness came with her own struggle to lead a happy and healthy lifestyle. She came from a sedentary background and fitness was never a priority. What changed her life was losing weight having a trainer, and finding ways to exercise that she loves to do. She strongly believes YOU have to work hard for what you want; nothing ever came to or changed for anyone by doing nothing. She believes you CAN!
She wants to increase her client's awareness of their health and engage them in positive behaviors for the rest of their lives. As your trainer she will be committed to being your teacher, motivator, a person to instill confidence and self-efficacy. Most importantly she wants your sessions to be fun and a way for you to unwind. Making your success happen is her motivation!
---
Amber instructs the following:
fitilates Reformer Pilates classes combine Joseph Pilates methodologies with modern day advances in exercise science. Focus is on strengthening and lengthening your entire body while learning to initiate the movement from the core. Proper technique and postures are stressed while learning important principles such as centering, opposition and control. Classes are limited to 6 participants; individual attention, pacing and modifications are provided.