Wendy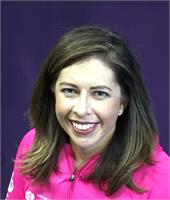 Spin Instructor (Mad Dogg)
Fitness Instructor Specialist (canfitpro)
In September of 2006, Wendy first walked into Infinite Fitness, looking to expand her fitness routine beyond running a few times a week. Since then, Wendy has been a participant in every service offered by Infinite Fitness, from personal training to Pilates to group fitness classes.
Through these experiences, Wendy discovered she loves cycling.
The progression from indoor cycling participant to instructor was an easy decision for Wendy to make. She loves helping other others to feel her same passion, the sense of rider community, goal setting and ultimately crushing those goals. In May, Wendy took her passion to the next level, attaining her canfitpro FIS certification.
Wendy brings her "riders" 9 years of indoor cycling and 4 years of distance road cycling experience, enthusiasm and motivating music to every class - Feet in the pedals, head and heart in the clouds!
Some of Wendy's favorite quotes:
"I want to inspire people. I want someone to look at me and say because of you I didn't give up"
"If you're sad, add more lipstick and attack" – Coco Chanel
"Maybe you could tone it down. There's no kill switch on awesome" - Dilbert
---
Wendy instructs the following:
Sweat and blast calories as you alternate between intervals on your bike and weight training exercises off the bike, set to heart pumping, motivating music and instruction. This is a full body workout, the perfect blend of both worlds!




Join us as we celebrate the music, drills and rides of 2018!