Joey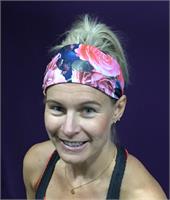 Bachelor of Education (U of S)
CycleFit Certification (Infinite Fitness Academy)
Teaching is nothing new for Joey ~ she graduated with a Bachelor of Education in 1991 from the University of Saskatchewan. Since then she has taught grades 4-12, in addition to coaching both Junior Boys and Senior Girls Volleyball. Growing up, Joey kept active competing in sports such as volleyball, figure skating, track and field, and softball. It wasn't until after having her two daughters that Joey developed a love for running.
While training for her second marathon she injured her knee while playing volleyball. It was after her recovery from the surgeries that Joey realized running would never be the same and that is when she turned to the bike and fell in love with spinning. She soon joined Infinite Fitness and not long after was a regular in the Infinite Ride classes. After four years of being a client at IF, the teacher in Joey wanted more, and so in February of 2015 she achieved CycleFit Certification, and has been going strong ever since!
More than anything, Joey absolutely loves motivating people of all ages to come and ride with her, to do their best and nothing less, to set personal goals, and to leave with no regrets! She especially loves the music loud - loud enough to make you want to dance ~ but only when riding!!
---
Joey instructs the following:
Experience the ride of your life! Our Signature indoor-cycling class will leave you begging for more. Our instructors combine effective and authentic riding with motivating music and inspiration. We will climb together. Sprint together. Work together. And sweat together.

Our state of-the-art cycling studio includes professional stage lighting, a kick-ass sound system and Keiser M3 bikes, the best indoor cycling bike on the market.

Join our cardio party and have fun while torching a lot of calories!

Like all of our Signature Classes, this class is appropriate for all levels and modifications will be provided when appropriate.