Marc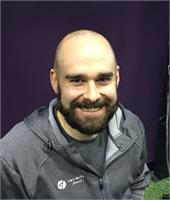 Personal Trainer Specialist (canfitpro)
Marc was active from a young age playing all sorts of sports from childhood into his teens. Despite his activity level, Marc still struggled with being overweight. By the time he was in his mid-twenties, Marc's weight had reached 280 pounds. It was at this point he had had enough and knew that he had to make some changes and turned to Martial Arts for the physical activity and fun!
Like any good weight-loss story though, Marc hit a plateau and turned to a Personal Trainer for help. The Trainer was able to push him harder and allow him to see further results. He also came to understand the importance nutrition and diversity played for both esthetic and performance goals!
He made the decision to get serious and compete in amateur boxing. With his new found focus, goal and commitment, the results he saw were amazing! He was able to shed the last of his excess weight and now sits comfortably around 190 pounds (yes, that's 90 pounds total weight loss).
His own personal experience and love for helping others reach their goals, dictated his career choice and Marc became a Personal Trainer himself. His goal is for you to see an increase in your personal strength, fitness level and most importantly your confidence level! Just as he has learnt to continually push past his comfort zone, he wants you to realize that for you – for the harder you work today, the greater the result you will achieve tomorrow! Marc looks forward to working with you and creating a road map for your own success!
---
Marc is currently not instructing any classes.