Alara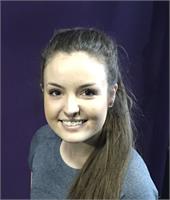 Personal Fitness Trainer (NAIT)
Certified Personal Trainer (CSEP)
Certified Corrective Exercise Specialist (NASM)
fitilates Instructor (fitilates Academy)

Starting at a young age, Alara grew up a dancer and continued into adulthood before choosing to pursue the career of personal training. Dancing professionally as mainly a ballet dancer, Alara joined the team with a wide range of knowledge especially in the realm of human movement.
Alara strives to help clients not just to exercise, but to MOVE their bodies to keep them mobile and strong. Her enthusiasm to help others reach their goals really highlights what the infinite team has to offer as exercise professionals.
She brings energy and passion to every client that walks in our doors, and strives to help her clients step out of their comfort zones to become the best versions of themselves as possible. She believes that the true first step is to show up, which allows the magic to truly happen, and an opportunity for growth!
Alara expresses the importance of taking care of the mind along side the body, to achieve any goal possible. With the support, guidance, and knowledge Alara brings, she can take you to levels you never thought possible!
---
Alara instructs the following:
fitilates Reformer Pilates classes combine Joseph Pilates methodologies with modern day advances in exercise science. Focus is on strengthening and lengthening your entire body while learning to initiate the movement from the core. Proper alignment, technique and postures are stressed while learning important principles such as centering, opposition and control. Classes are limited to 5 participants; individual attention, pacing and modifications are provided.




A dynamic full-body workout will be the focus of this pilates class, while improving flexibility, stamina and strength. Feel your whole body tighten and tone throughout this work out that may vary class to class. Small props such as flex bands, fitness circles and toning balls may be incorporated to intensify further.




Small Group Personal Training classes are perfect for individuals looking to combine the effectiveness and personalization of Personal Training with the energy and camaraderie of a Group Fitness class! With only 6-8 participants per class, work outs are perfectly tailored to each individual's needs, abilities, and goals.




The Good, the Bad and the Ugly of Gluten free/Paleo/DASH

Carbs are bad for you right? They are what make you fat? But what the heck is gluten!? Paleo? Isn't that a diet from the stone age? What the heck is DASH? Am I supposed to run? I thought this was about diets. Would you believe that are they all very similar diets? If you don't come be amazed as Maddy explains these three diets, each in detail. Of course the differences will not be neglected. This Fit Friday's "Sustainable or Unattainable Diets" will be all about the trend of steering clear of gluten, and other "bad" foods.