Janice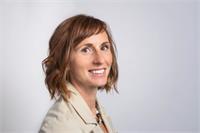 Janice has been a fitness instructor since 2007. Although always an athlete, Janice caught the
group fitness bug after having her first child. Struggling with postpartum depression and
needing an outlet, she found group fitness as way to develop a self-care routine and start to
feel good about herself again. It is no secret that Janice has always loved being at the front of
a room, so once her confidence was back, it was a natural fit to move from a participant to a
leader. In 2014, Janice was diagnosed with stage three colon cancer and once again, her
continued dedication to her own health and wellness, as well as the support of a fitness
community was there to help through the difficult year of treatments, surgeries and mental
health struggles. Janice has a deep passion for working with people to overcome their own
feelings of self-doubt and moving into a positive mindset. She believes deeply in the
importance of a strong community and in having those people's support through all of life's
challenges. Janice absolutely loves watching people set goals and achieve them. Invite her to
your first race or event and you will most definitely catch tears of pride in her eyes.
Janice instructs the following:
Sweat and blast calories as you alternate between intervals on your bike and weight training exercises off the bike, set to heart pumping, motivating music and instruction. This is a full body workout, the perfect blend of both worlds!