Shawna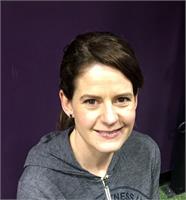 Bachelor of Science, Biochemistry (University of Waterloo)
PhD, Medical Genetics (University of Toronto)
Personal Fitness Trainer Diploma (NAIT)
Certified Corrective Exercise Specialist (NASM)
Certified Group Exercise Leader, (AFLCA)
fitilates Instructor (fitilates Academy)
Defy Expectations. This is the mantra for how Shawna approaches her life and work.
Shawna spent the early part of her career as a research scientist at the University of Toronto before transitioning to post-secondary teaching after her daughters were born. In 2011, a move to Santiago, Chile allowed her to re-evaluate her passions and priorities. Upon her return to Canada in 2014, Shawna seized the opportunity to turn her life-long commitment to fitness and wellness in to her profession. She joined the Infinite team as a practicum student in September of 2016 and never left.
Shawna's personal athletic journey started with cross-country running in high school and has included stops for over a dozen half-marathons (destination races are her favourite); a full marathon; and triathlons of various distances. In July of 2016 she kicked off a new decade by completing her first Ironman 70.3 triathlon.
Shawna brings her unique life experience, science education, and teaching background to all her training sessions. She wants to help you find the courage to set big goals and then coach and support you at every step of the way as you achieve them. With her infectious energy, positive attitude and "work hard, play hard" mentality, Shawna's goal is to help you defy your own expectations.
---
Shawna instructs the following:
Small Group Personal Training classes are perfect for individuals looking to combine the effectiveness and personalization of Personal Training with the energy and camaraderie of a Group Fitness class! With only 6-8 participants per class, work outs are perfectly tailored to each individual's needs, abilities, and goals.




fitilates Reformer Pilates classes combine Joseph Pilates methodologies with modern day advances in exercise science. Focus is on strengthening and lengthening your entire body while learning to initiate the movement from the core. Proper alignment, technique and postures are stressed while learning important principles such as centering, opposition and control. Classes are limited to 5 participants; individual attention, pacing and modifications are provided.