Karl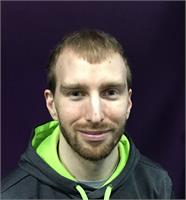 Personal Fitness Trainer (St. Lawrence College)
Certified Personal Trainer (CSEP)
Karl is a graduate of the Fitness and Health Promotion program from St. Lawrence college as well as being CSEP-CPT certified. He's been training clients for 7 years and has been training on his own for well over a decade.
As a trainer, he is most passionate about helping clients getting stronger, moving better and achieving their goals. He's especially passionate about helping people
He believes most people don't realize what they're truly capable of and strives to always make them realize what's possible with a well constructed fitness program.
When he's not training himself or clients he's busy being obsessed with various other interests. Mostly just Star Wars.
---
Karl instructs the following:
A brand new small group conditioning program with a focus on strength, explosive power and intense conditioning, where we teach you how to train like an athlete.

You will use barbells, kettle-bells, push/pull sleds, etc. to emphasize being strong and explosive in a dynamic way, all while being coached by one of our great trainers.

These sessions are part of our Small Group Personal Training program where the number of clients per group are limited so our coaches can focus on each client's individual needs and limitations.