Melinda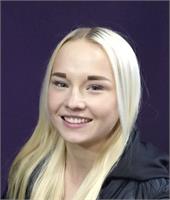 Personal Fitness Trainer (NAIT)
Certified Personal Trainer (CSEP)
Certified Corrective Exercise Specialist (NASM)

Melinda Froehlich is a graduate of the NAIT personal fitness training program, a certified CSEP CPT, and an NASM certified corrective exercise specialist.
Melinda believes it is important to live an active and healthy lifestyle but also believes BALANCE is key. Growing up with health challenges gave her an understanding of pain and motivated her to want to help others alleviate their pain and discomfort regarding muscle imbalances.
She wants to help her clients become fully aware of their full capabilities, to be the best versions of themselves possible, and to simply live pain free, happy, and healthy lives.
---
Melinda instructs the following:
fitilates Reformer Pilates classes combine Joseph Pilates methodologies with modern day advances in exercise science. Focus is on strengthening and lengthening your entire body while learning to initiate the movement from the core. Proper alignment, technique and postures are stressed while learning important principles such as centering, opposition and control. Classes are limited to 5 participants; individual attention, pacing and modifications are provided.




Small Group Personal Training classes are perfect for individuals looking to combine the effectiveness and personalization of Personal Training with the energy and camaraderie of a Group Fitness class! With only 6-8 participants per class, work outs are perfectly tailored to each individual's needs, abilities, and goals.