Melinda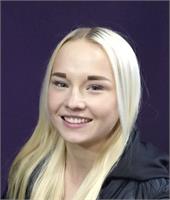 Personal Fitness Trainer (NAIT)
Certified Personal Trainer (CSEP)
Certified Corrective Exercise Specialist (NASM)

Melinda Froehlich is a graduate of the NAIT personal fitness training program, a certified CSEP CPT, and an NASM certified corrective exercise specialist.
Melinda believes it is important to live an active and healthy lifestyle but also believes BALANCE is key. Growing up with health challenges gave her an understanding of pain and motivated her to want to help others alleviate their pain and discomfort regarding muscle imbalances.
She wants to help her clients become fully aware of their full capabilities, to be the best versions of themselves possible, and to simply live pain free, happy, and healthy lives.
---
Melinda instructs the following:



Wanna blast your midsection into shape? This is the class for you! Using light weights, exercise mats, resistance bands and standing exercises, you'll target your glutes and abs, define muscle, burn fat and increase your flexibility.