Maggie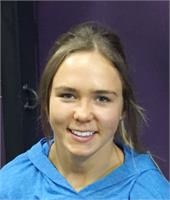 Personal Trainer Specialist (canfitpro)
Certified Yoga Instructor (200hr RYT)
fitilates Instructor (fitilates Academy)

Maggie has been involved in, and has had a passion for, fitness and physical activity for as long as she can remember! Maggie's personal athletic background includes a very successful history of playing the sport of Ringette--she has played on teams that won several Alberta Provincial championships, including participation in the Canada Winter Games and two National Championships. Maggie's participation in high caliber sports taught her the importance of maintaining a healthy and active lifestyle.
Maggie joined the Infinite Fitness team approximately two years ago as a Customer Service Representative. After watching the trainers of Infinite Fitness and the positive impact they had on clients' lives and fitness goals, Maggie was inspired to branch out and start a personal training career of her own.
Maggie believes that anyone is capable of anything if they put their mind to it. It doesn't matter where you are starting from, just that you are starting!
---
Maggie instructs the following:
SWAT and Infinite Fitness are very excited to introduce our Off Ice Hockey Conditioning Development Program for players born between 2006 and 2010 (Peewee, Atom and Novice Mayor.

This 18 weeks conditioning program will focus on the following fitness components that are key to developing hockey players and more importantly, a well balanced athlete overall.

• Flexibility
• Power
• Speed
• Agility
• Reaction Time
• Strength

While all sessions will have a hockey-movement emphasis, the exercises are incorporated into a framework of games and teamwork to keep the kids engaged and having fun. This small group setting of only 15 players per session allows for quality instruction and individual attention while keeping it cost effective.

Sessions will be offered every Tuesday from 4pm to 4:55pm (starting October 2nd and ending on February 26t, with a holiday break from December 11th to January 1st.

Cost: $270 + gst




Small Group Personal Training classes are perfect for individuals looking to combine the effectiveness and personalization of Personal Training with the energy and camaraderie of a Group Fitness class! With only 6-8 participants per class, work outs are perfectly tailored to each individual's needs, abilities, and goals.




Hatha Yoga combined with Sun Salutations will build heat in the body through vigorous movements, challenging participants of all levels. Experience a variety of movements for strength and stamina of body and mind.