Elise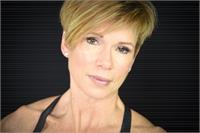 My motto that I live by is ….. "Turn intensions into actions …. One step at a time.".
I began in the Fitness industry in 2007 and I have never looked back. Through out my journey I have attained a large variety of Fitness certifications, thus allowing me to offer a wide range of options and experiences. I am also a Fitness Professional, Educator and Mentor. Healthy living is my belief and I am excited to to meet you along your personal journey.
Elise instructs the following:
fitilates Reformer Pilates classes combine Joseph Pilates methodologies with modern day advances in exercise science. Focus is on strengthening and lengthening your entire body while learning to initiate the movement from the core. Proper alignment, technique and postures are stressed while learning important principles such as centering, opposition and control. Classes are limited to 5 participants; individual attention, pacing and modifications are provided.